In the world of real estate, first impressions matter. When it comes to selling a property, the way it is presented makes all the difference in attracting potential buyers. This is where virtual staging comes in. Virtual staging is the process of using computer software to create images of a property with furniture and decor added in, giving potential buyers a better idea of how the space could look if they were to move in. In this blog post, we will discuss the benefits of virtual staging and why it should be utilized by realtors.
Cost-effective
One of the biggest benefits of virtual staging is its cost-effectiveness. Traditional staging requires renting or purchasing furniture, hiring movers to transport it to the property, and paying for a professional stager to arrange it. Virtual staging eliminates all of these costs, making it a much more affordable option. It also allows realtors to stage multiple properties simultaneously, without having to worry about the logistics of moving furniture and decor accessories around.
Faster turnaround time
Virtual staging also has a much faster turnaround time than traditional staging. While traditional staging can take several days to complete, virtual staging can be done in just a few hours. This is particularly useful in a hot real estate market, where properties are selling quickly and realtors need to move fast to attract potential buyers.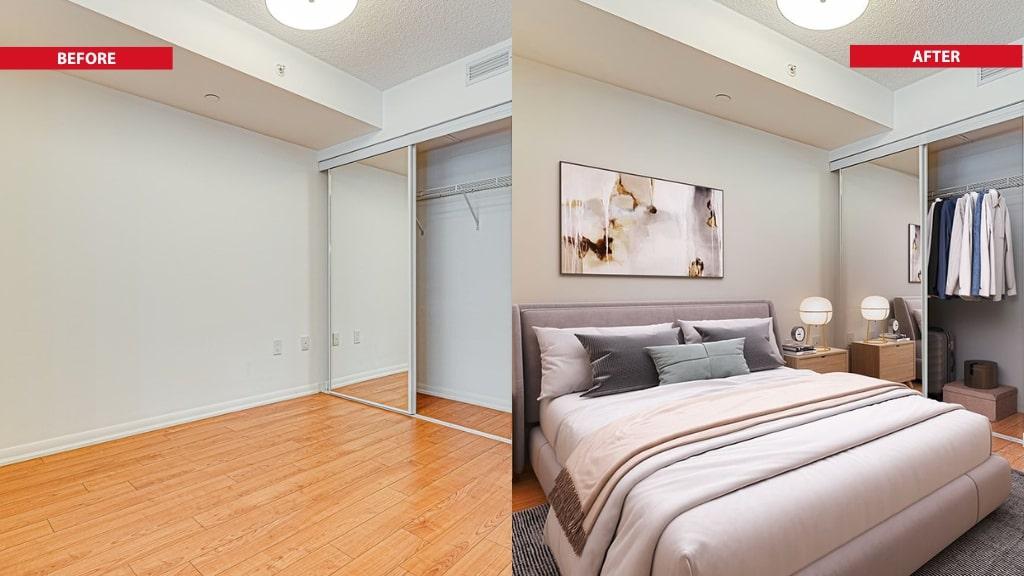 Customization
Virtual staging allows realtors to customize the furniture and decor to fit the specific needs of each property. This means that realtors can show potential buyers what a property could look like with different furniture layouts or decor styles, giving them a better idea of how they could make the space their own.
Ability to showcase potential
Virtual staging is also a great way to showcase a property's potential. For example, if a property has a small bedroom that might be difficult to imagine as a functional space, virtual staging can show potential buyers how it could be used as a home office or a guest room.
Appeal to a wider audience
Finally, virtual staging can help realtors appeal to a wider audience of potential buyers. By showcasing a property in its best light, with furniture and decor that compliments its unique features, realtors can make it more appealing to a wider range of buyers. This is particularly useful in a competitive market, where properties need to stand out to attract attention.
Sold Right Away can take a vacant photo and add furniture to it, from beds, kitchen stools, dining room tables and home decor. It will help showcase the room and how it can and should be used. If you have a vacant listing right now, try Virtual Staging. Send us your pictures over and we will add furniture to it.
If not, the next time you have a vacant listing, mention it during your booking and prepare for virtual staging. When we take the listing photos, we will capture all the angles and the idea on how we will virtually stage it for you. Check out our website to learn more about our virtual staging services or contact us to book now!