When the sale is done, the work continues! Marketing the home you just sold is a surefire way to gain credibility to boost your brand. This guide will show you how to strategically market your successful sold listings to increase your brand awareness, build a successful reputation, and get that next listing.
GATHER YOUR SOCIAL PROOF
Testimonials, Testimonial Videos & Reviews
After you have closed the deal for your client, take the opportunity to ask them to write or record a testimonial video for you. At this stage they will be all excited about the process and the success they had with you as their realtor. Ask them to do this while their memory is fresh so they can provide a thoughtful and detailed review.
Take a look at this customer testimonial we created for our client who helped this lovely family purchase their home in Dundas.
How do you feel after watching it? Video Testimonials work especially well because they are easy to digest, engaging, and most importantly, evoke emotion. Viewers retain 95% of a message when they watch it in a video compared to 10% when reading it in text. What better way to show how great of a Realtor you are than with raving fans and client videos?
SET UP YOUR DIGITAL CAMPAIGN
First things first, update your website. Mark the listing on your website as sold and leave it that way until the closing day before taking it down. Post the testimonial you received from your client to your website as well. Whether it is written or a video, make sure it looks professional, is clear and easy to find, and free from errors.
Share the news with your database
Send the contacts in your database an email with the news that you just sold your listing. If you sold in a short period of time, or over asking, make sure to include those details too. To maximize the performance and results of your email, include a client testimonial video. Just simply adding a video to your email can boost open rates by up to 19% and click-through rates up to 65%.
Promote your sold on ALL of your social media platforms
Give your social media followers an update on your latest WIN! Share the story of the buying/selling process and highlight the benefits that your clients received with you as their agent. Were there any roadblocks you helped them get over? Did you get them multiple offers over asking? Storytelling on social media helps you create authentic conversations and boost engagement.
Here is an example of a social media post we designed for one of our clients: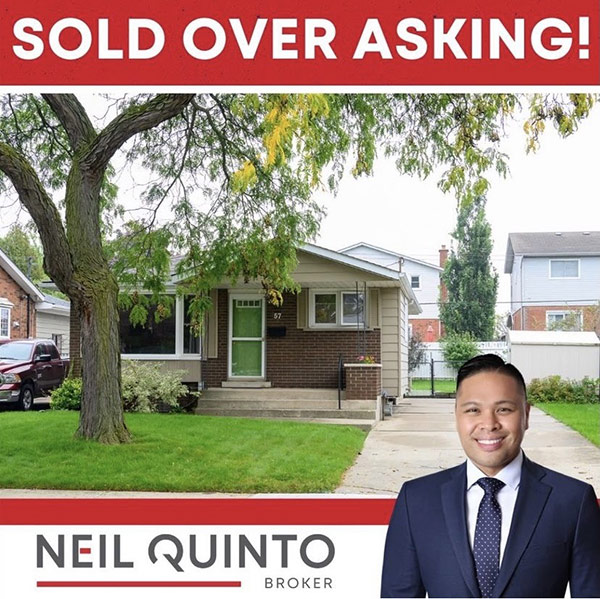 Run a targeted Facebook Ads Campaign
Create a professional looking Facebook ad to promote your Sold listing. Think of this as your digital postcard and target the ad towards the neighborhood of your sold listing. This way the neighbourhood will see not only your signs and your postcard, but your online presence as well.
SET UP YOUR PRINT CAMPAIGN
Put your branded sold sign on the lawn
In residential neighborhoods, there are likely people who walk, bike and drive by the house everyday. They will notice the change from For Sale to SOLD consciously or subconsciously, Another thing they will take note of? Your branding. So make sure your sign is professional looking and consistent with the rest of your marketing pieces.
Get just sold postcards / flyers out right away
One of the first things to do after you have sold your listing is to send out branded postcards or flyers to the neighborhood that you sold in. What better realtor to sell your home than one who sold the one down the street for over the asking price? Here is a postcard we designed for our client after her listing just sold.

In order to build credibility and your reputation to attract new clients, you should have a marketing plan in place to leverage every sold listing you have. This plan will help you increase your brand awareness, brand recognition and help build a successful reputation. We can help you leverage your sold listings to create the perfect marketing plan.