Photo from our listing photography service
In the fast-paced and competitive domain of real estate, first impressions wield significant power, shaping the path of a potential sale or scoring a new listing. For realtors aiming to carve out a presence that resonates with communities and sparks the interest of potential sellers, this comprehensive guide offers the ultimate insight. Explore how leveraging current listings through superior photography, videography, and unique branding strategies can be your biggest asset in securing more listings and growing your brand's presence.
HD Listing Photography
Professional, high-resolution photographs are the key to attracting potential buyers and creating a buzz in the neighbourhood, acting as a resource for word-of-mouth referrals. This high-quality photography unlocks the intrinsic value of properties, allowing prospects to visualize their future homes, thereby enhancing their search intent, ultimately motivating them to book a showing or request for more details.
HD Listing Videography
Innovative and engaging property videos provide an immersive experience, allowing potential buyers a clearer perspective of the property's ambiance and layout. This piece of content can captivate viewers, create deeper connections, and drive neighbourhood conversation about your listings.
For Sale Signs
Striking 'For Sale' signs are silent ambassadors for your brand. Personalizing these signs with coherent branding elements elevates recognition and fosters trust within the community.
Farming Postcards and Admail
Customized farming postcards and admail serve as tangible reminders of your presence, portraying a consistent, polished image, and positioning you as the go-to realtor in the neighbourhood. These are key elements in a content marketing strategy aimed at penetrating local markets effectively.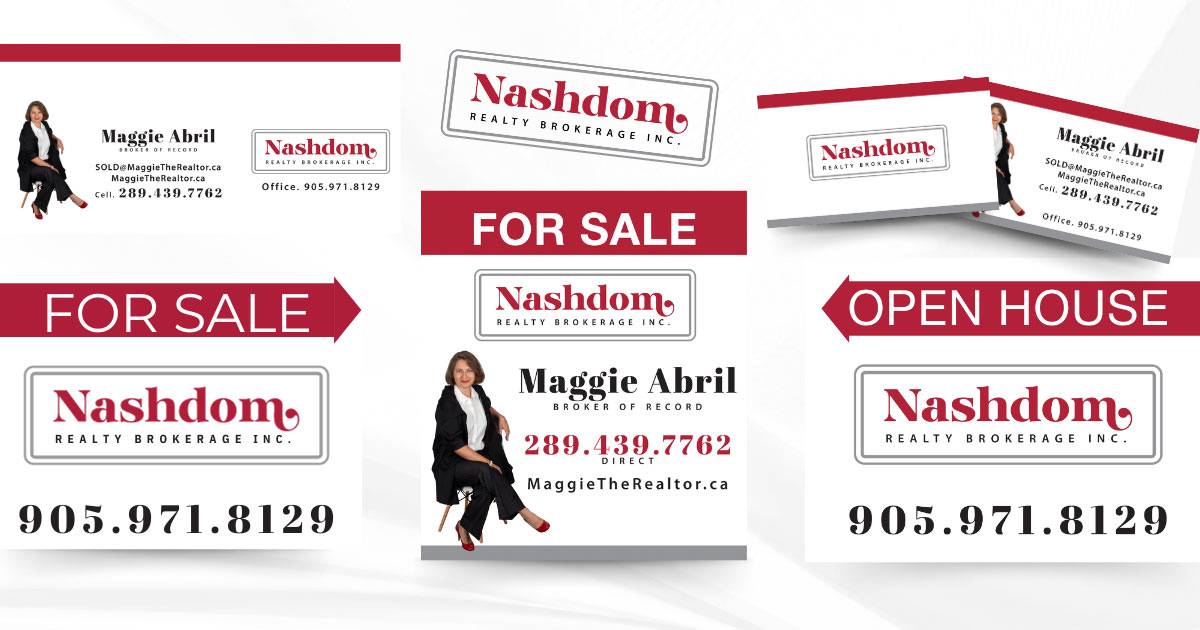 Photo from our recent branding project
Branding Consistency
Maintaining cohesive branding across platforms solidifies your identity and fortifies your reputation. Whether it's social media marketing, business cards, or promotional merchandise, uniformity in design and messaging is key to building trust and providing value to potential clients.
Community Engagement
Leverage your listings to engage with the community. Hosting open houses and maintaining an active social media presence are vital content strategies to interact with locals and showcase commitment to the neighbourhood.
Leverage Online Platforms
Utilize digital marketing and online platforms to optimize the reach of your HD listing photography and branding. Develop a user-friendly, visually appealing website and maintain active, consistent profiles on real estate portals and social media channels to showcase your listings and branding to a wider audience.
Client Testimonials
Client testimonials serve as reputable sources of your commitment and quality of service. Displaying such endorsements on your marketing materials and online platforms reinforces your credibility and can influence sellers in the neighbourhood to choose you as their go-to realtor.
Localized SEO
Implementing localized SEO strategies is paramount in enhancing your visibility to potential clients in specific neighbourhoods. By optimizing for local search terms, you ensure that your brand appears prominently when individuals in your target areas search for real estate services.
Harnessing high-quality visuals and distinctive branding is crucial for establishing a strong community presence in real estate marketing. It's about seamlessly integrating your brand within the community, creating a recognizable, reliable presence, and leaving a lasting impression. Each listing, through HD photography and consistent branding, becomes a powerful marketing tool, expanding your influence to win more listings.
Remember, every interaction is a golden opportunity to grow your brand and showcase your unique value. Leverage your listings and witness your brand grow.
Ready to grow your brand with unparalleled HD photography, videography, and innovative branding solutions? Contact us at Sold Right Away, your leading marketing agency for all your real estate marketing needs, including listing photos, videos, branding materials and more! Let us help you to leverage your listings, get more leads and win more listings effectively! Reach out to us to book your consultation right away and let's formulate a winning marketing strategy together!